Transform without
disruption.
The power of Uniform, migrated to the cloud so you can do more.
The power of Uniform, migrated to
the cloud so you can do more.
Get in touch
Our robust, cloud-hosted, single solution for efficient digital government
Councils continue to face mounting pressures to meet rising demand for services with diminishing budgets. Compounding that challenge further, public sector organisations are a priority target for cybercriminals, meaning the risk to service disruption is higher than ever. With innovation high up on the agenda for local authorities, they continue to seek new ways to improve front line services that are secure, compliant and cost-effective.
Uniform Cloud transforms the same feature-rich experience of Idox's Uniform – the market-leading case management software solution used by UK local authorities – into a fully cloud-hosted and managed service.
Underpinned by Idox's state-of-the-art hosted and managed service provision, Uniform Cloud provides the ideal infrastructure for councils to become more agile, scalable and resilient – enabling them to focus on delivering improved public services at a time when they are needed most.
By migrating Uniform to the cloud, we've created an environment for the most effective operation of our products where local authorities can offload the burden of IT compliance and headache of keeping IT systems secure and maintained.
Operating across sectors with such volatility, risks and unexpected pressures, our heritage, unrivalled expertise and state-of-the-art technology provides assurance of guaranteed uptime, service levels and robust continuity practices.
We can help deliver on your cloud strategy, with council IT teams fully supported throughout the entire process, migrating your data and processes with ease to all be under one, secure, compliant roof.
Partner of local government organisations for 30+ years
Full protection with robust security protection
Guaranteed uptime, service levels and robust business continuity practices
Unrivalled technical expertise and deep domain knowledge
40+ local authorities trust Idox to provide Uniform in the cloud
Regulatory compliance guaranteed
Cost and time savings
Migrating to a fully managed and hosted solution will help lower infrastructure costs and redirect resources to vital service delivery as councils do not need to employ external expertise to manage on-premise infrastructure.
Safety and compliance
We employ dedicated in-house expertise specialised in all elements of security and compliance, underpinned by the highest standards for data protection such as Cyber Essentials Plus and ISO27001.
Confidence
Working with local government organisations for over 30 years, more than 40 customers have put their trust in Idox to provide Uniform in the cloud, assured by our unrivalled hosted environment expertise and robust technical infrastructure.
Robust and reliable
Your technology stack and related applications will be kept fully updated and managed in a safe and secure environment designed for 24/7 operation.
Support expertise
Developed and managed by ex-local government staff, with deep domain knowledge of how local authorities operate and dedicated subject matter experts across areas such as local government processes, hosting, cloud and project management.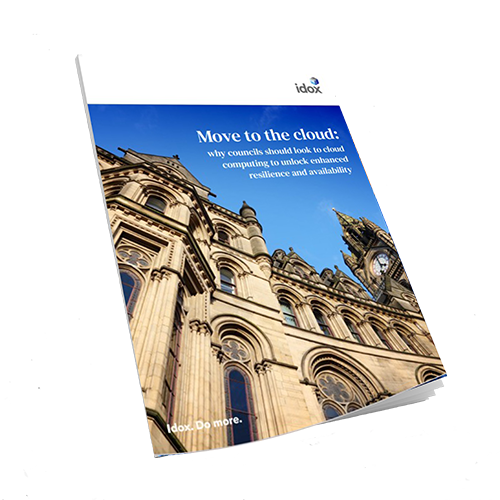 Move to the cloud: why councils should look to cloud computing to unlock enhanced resilience and availability
UK local authorities continue to face mounting pressures to meet rising demand for services with diminishing budgets. As more services move online, the threat of increasingly sophisticated cyber attacks continues to dominate the headlines. How can local authorities continue to innovate and improve front line service delivery, while ensuring they do so in a safe, secure, compliant and cost-effective way?
In this paper, Scott Goodwin, Head of Local Government at Idox, explores how cloud migration can support councils in their security and compliance efforts, as well as unlocking a number of additional benefits as a result.